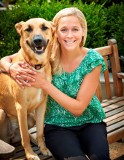 Growing up in Chevy Chase, MD, my family had a number of dogs and cats and a general love for animals. At Middlebury College, I remained interested in the healthcare profession and majored in neuroscience, though my focus turned to human medicine. I spent my summers doing research as well as counseling at the Joslin Diabetes Center in Boston. It was not until shortly before my graduation (and after I adopted my cat, Scout) that I revisited my first dream – to become a veterinarian.
After college, I moved back to DC and began work as a veterinary technician here at Friendship Hospital for Animals. I knew right away that I wanted to come back and be a staff veterinarian at this impressive practice. I then went to work for the FDA Center for Veterinary Medicine while I applied to vet school. I attended the University of Pennsylvania School of Veterinary Medicine and conducted research in different veterinary specialties during my summers, including a return to Friendship to work with Dr. Chand Khanna at the Oncology Services and Animal Clinical Investigation, LLC.
After graduation, I accepted a small animal rotating internship at the Animal Medical Center in New York, NY. I saw hundreds of cases and enjoyed the hectic pace of this large non-profit veterinary center. After 5 fulfilling years, I was happy to return to Friendship, and my hometown.
I live in Northwest DC with my husband, our cat, and our shelter dog Madaket, whom I spayed as a third year vet student and never let go. Outside of work, I enjoy the outdoors, traveling, and running in Rock Creek Park with Madaket.