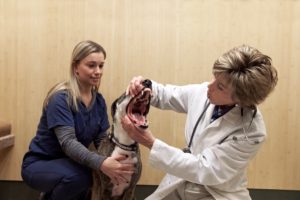 At Friendship Hospital for Animals, we believe dental health is a vital part of your pet's well-being. Whether your companion comes in for a routine cleaning or a crown amputation, you can feel confident knowing he or she will always receive the highest quality care from a team of veterinarians and dental technicians who are extensively trained in dental health and general anesthesia.
Led by our Chief of Dentistry, Dr. Ray Phillip, you can count on Friendship should your companion have a complicated dental issue, such as severe gingival disease or an abscessed tooth. Our veterinarians give the same meticulous attention to dental procedures as they would a surgical procedure: the same advanced anesthesia monitoring and pain management techniques overseen by the District's only board-certified veterinary anesthesiologist, Dr. Nicole Leunsman.
For frequently asked questions visit our Dental FAQs.
We Put as Much Effort Into Preventing Problems as We Do Treating Them
Dental disease is one of the most common health problems in dogs and cats. Even minor issues, such as tartar buildup, can lead to more serious issues if left untreated. Our team will show you how to properly care for your companion's teeth and develop an at-home maintenance plan. When necessary, a professional dental cleaning includes the ultrasonic removal of harmful tartar, polishing, and a fluoride treatment to prevent decay.
We're a Leading Hospital in Advanced Dental Care
All dental procedures, from routine cleanings to complicated extractions, are performed in an isolated area, dedicated to dental work. We are outfitted with the very latest instruments and equipment, such as a digital dental X-rays unit.
Advanced dental services provided include:
Sedated pre-dental examinations for dental evaluation
Dental prophylaxis (cleaning and polishing)
Full periodontal examination
Digital dental radiography
Closed fractured tooth treatment
Periodontal abscess treatment
Root planing
Guided tissue regeneration
Feline odontoclastic resorptive lesion treatment
Tooth extraction with and without bone regeneration techniques
Full mouth extractions
Crown amputations
Gingivectomy
Oral mass evaluation, biopsy, or excision
Please call us to learn more about our pet dental service.