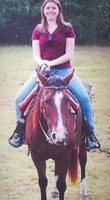 I was born in Silver Spring, Maryland and grew up in nearby Frederick. I moved back to Montgomery County at the age of 11 and have considered it home ever since. My interests include horseback riding, skiing, hiking, watching sports (Go Skins!) and exploring D.C. Between completing my undergraduate degree and beginning veterinary school, I worked at Friendship as a veterinary technician. This time at Friendship sparked a desire to gain more experience at a specialty hospital.
My interests in veterinary medicine are in soft tissue surgery, as well as emergency medicine. I am looking forward to learning more about these specialties and all the others Friendship has to offer over the next year.
I attended the University of Maryland in College Park for my Bachelor's degree in Animal Science. After graduating, I attended veterinary school at St. George's University of Grenada. I spent my fourth and final year of school at the University of Georgia for my clinical training.
I am excited to come back to Friendship to further my training in veterinary medicine!