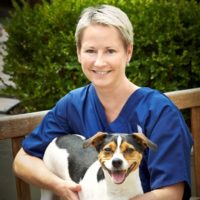 I am originally from Minnesota, where I completed a BS in biology and graduated from the University of Minnesota College of Veterinary Medicine in 1995. I completed a rotating internship in small animal medicine and surgery in Hollywood, Florida and continued on as an associate in the practice for 10 years.
I have been with Friendship since 2005, and I am proud to be part of a team that provides high quality medical and surgical services. My professional interests include endocrinology, ophthalmology, soft tissue surgery, and urology.
I have a terrific daughter and two dogs; Vegas, a Rhodesian Ridgeback, and our newest addition, Lily, a beagle mix. My personal interests include biking and general fitness, spending quality time with my family, reading, SCUBA, and travel. I have recently completed my first black belt pre-test in taekwondo and hope to obtain my black belt within 2 years.