Nutmeg presented to Friendship Emergency & Critical Care Services after being hit by a car. Nutmeg suffered severe facial trauma, including facial swelling, nosebleed, the inability to close his jaw, scleral hemorrhage, and signs consistent with a mild traumatic brain injury (TBI; dull mentation). A traumatic brain injury (TBI) occurs from a sudden and violent blow to the head or body (i.e. being hit by a car). Most TBIs are mild and do not cause permanent or long-term disability. The most common complications associated with TBI include hypotension (low blood pressure), hypoxia (low blood oxygen saturation), and decreased blood flow through the brain secondary to swelling of the brain tissue.
Nutmeg was hospitalized for supportive care (IV fluids, oxygen, pain medications, and antibiotics), head CT (computed tomography) and placement of an esophagostomy tube (feeding tube in the esophagus). The CT revealed a minor fracture of his maxilla and one canine tooth. None of his injuries required surgical correction. Nutmeg recovered well and was discharged within two days of admission to the hospital. We are happy to report that Nutmeg is recovering well at home with a great appetite!
An esophagostomy tube is a feeding tube placed directly into the esophagus while a patient is under general anesthesia. The purpose of this tube is to help patients who suffer oral/facial trauma or have a prolonged reduction in appetite receive their daily requirement of calories. Cats with facial trauma, particularly those with jaw or nose injuries, can have difficulty smelling and eating food. Cats can still eat on their own while the feeding tube is in place. If needed, the esophagostomy tube can be maintained for a prolonged period. Once recovered, patients can go home with the esophagostomy tube in place to receive food and medications.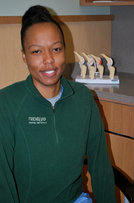 Dr. Dorsey earned her veterinary degree and completed a Small Animal Rotating Internship at the Tuskegee University School of Veterinary Medicine. Dr. Dorsey completed a Small Animal Emergency & Critical Care internship and residency at Tufts University Cummings Veterinary Medical Center and joined in 2017.