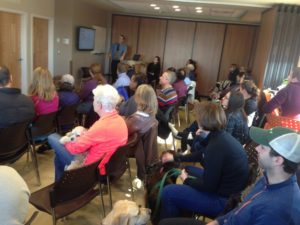 Friendship Hospital for Animals knows that pet ownership can leave you with a lot of questions about providing the best care for your pet. That's why we offer Client Education seminars and events, aimed to provide valuable pet-related information to our clients and community.
Seminars are hosted in our 2nd Floor reception area. Free to the public and their pets. Light fare and soft drinks provided.
Facebook Live streaming can be viewed from the comfort of your home, with the ability to interact live or comment your questions at a later date. Be sure to follow us on Facebook to receive notifications on upcoming sessions.
September 6th, 2018 – Nail trimming demonstration with Dr. Dugan at 4pm
September 13th, 2018 – Food Labels Q&A with Dr. Fonseca at 4pm
To receive details on upcoming presentations, as well as RSVP information, sign up for our newsletter.