Managing Your Patient's Pain: Learn About Our Specialized Clinic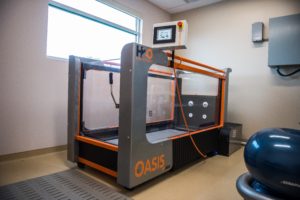 Friendship understands that freedom from pain is important to your patient's quality of life. We are committed to collaborating with you whether your patient's discomfort is related to a surgical procedure, a chronic condition, or routine aches and pains.
Friendship's dedicated Pain Management Clinic is led by Dr. Nicole Luensman, DACVAA, cVMA. In addition to expertise in the use of analgesic pharmacologic agents, she has advanced training and certification in acupuncture. Joined by Certified Canine Rehabilitation Practitioners (CCRP), Janay Austin-Carlson and Phillip Biele, our Pain Management team has a broad knowledge base to offer patients the most creative and effective combinations of pain management methodologies for the best outcomes.
Both Traditional & Multimodal Approaches to Pain Management
We have many strategies for controlling pain. Tactics may include oral medications, injections, constant infusions, nerve blocks, and regional anesthesia.
Our hospital's pain clinic uses multimodal pain management treatment options to minimize pain and speed recovery, including:
Acupuncture—Similar to applications in humans, veterinary acupuncture is the insertion of fine needles into specific points on the body to produce a healing response.
Rehabilitation—Physical rehabilitation employs a number of techniques to enhance and restore functional ability and quality of life.
Massage—Pet massage has many benefits, including relief from pain and improved joint flexibility.
For further questions about our pet pain clinic, please contact our acupuncture and pain management staff.