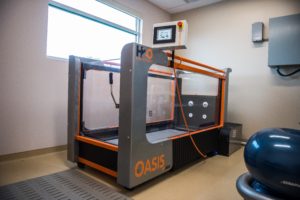 Friendship Hospital for Animals considers pain management to be one of the most important considerations in veterinary medicine. We are committed to keeping your pet's pain under control—whether the discomfort is related to a surgical procedure, a chronic condition, or routine aches and pains. Studies show that keeping pets free from pain improves the rate at which they recover from injury or illness. Unquestionably, freedom from pain is important to a pet's quality of life.
Friendship's dedicated Pain Management Clinic is led by board-certified veterinary anesthesiologist, Dr. Nicole Luensman.
In addition to expertise in the use of analgesic pharmacologic agents, Dr. Luensman has advanced training and certification in acupuncture. Joined by Certified Canine Rehabilitation Practitioners, Janay Austin-Carlson and Phillip Biele, our Pain Management team has a broad knowledge base to offer patients the most creative and effective combinations of pain management methodologies for the best outcomes.
We have many strategies for controlling pain. Tactics may include oral medications, injections, constant infusions, nerve blocks, and regional anesthesia.
Our hospital's pain clinic uses multimodal pain management treatment options to minimize pain and speed recovery, including:
Acupuncture – Similar to applications in humans, veterinary acupuncture is the insertion of fine needles into specific points on the body to produce a healing response.
Massage – Pet massage has many benefits, including relief from pain and improved joint flexibility.
Rehabilitation – Physical rehabilitation employs a number of techniques, including hydrotherapy, to enhance and restore functional ability and quality of life.
Pain Management Consultations
Chronic pain can be very complex and multifactorial. As a Diplomate of the American College of Veterinary Anesthesia and Analgesia, Dr. Luensman has received advanced training in disorders of the pain pathway and their treatment.
An initial pain management consultation typically lasts between one and one-and-a-half hours. During the consultation, Dr. Luensman will take a detailed history with a focus on your pet's activity and signs of pain. She will also observe your pet's posture and gait and evaluate your pet for muscle symmetry, pain, or points of tension (trigger points.) During the pain management consultation, Dr. Luensman will also perform acupuncture, laser therapy and/or medical massage as indicated.
Comprehensive pain management includes recommendations on nutrition, supplements/nutraceuticals, pain medications and integrative therapies (acupuncture or physical rehabilitation.) Occasionally, referral to another specialist (board-certified surgeon or neurologist) may be indicated. Finding the right therapies for your pet takes time and communication. An initial pain management consultation includes six months of additional follow-up.
Patients under Dr. Luensman's care for comprehensive pain management receive a 15% discount on acupuncture and physical rehabilitation services at Friendship Hospital for Animals.
Acupuncture
Acupuncture sessions with Dr. Luensman involve the insertion of very small sterile needles at specifically described points, as well as medical massage and laser therapy when indicated.
Acupuncture sessions are offered Monday – Friday. The first session is typically scheduled as an appointment, and subsequent treatments can be scheduled as an appointment or on a drop-off basis.
For more information, visit our Acupuncture Frequently Asked Questions or contact us.