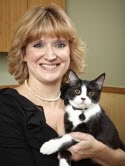 I grew up just outside of Pittsburgh, PA, where Steeler football is a way of life. My love of animals came from my mom who never seemed to mind all the animals that seemed to "find" their way to our house. I apparently told my aunt when I was the ripe age of 3 that I was going to be an animal doctor. I attended Penn State University where I received my degree in Animal Bioscience. During my undergraduate years, I worked at a veterinary hospital in my hometown with a wonderful vet who encouraged me to pursue my dream. The love that he showed for the veterinary profession really was an inspiration. I went to veterinary school at Purdue University and finally became a doctor of veterinary medicine in 1992.
I started working at Friendship Hospital for Animals in 1994. I served as Chief of Medicine for 5 years where I participated in the many administrative aspects of Friendship. With my current schedule, I am now able to focus on what I enjoy the most—establishing lifelong relationships with my patients.
Shortly after graduation from vet school, I married my high school sweetheart of eight years, Jens Bolch. My husband and I live in Gaithersburg, Maryland, with our three children, Alexander, Catherine and Derek. Our four-legged family includes our greyhound, Jax, our two cats, Junior and Mr. Sting, and our turtle, Sampson. In what little time is left in a day, I enjoy gardening, decorating my house, and traveling with my family.