Meet Our Administration
Peter S. Glassman, DVM, Director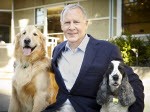 I graduated from the Cornell veterinary college in 1978 and in June of that year began my veterinary career at Friendship. This is the only veterinary job I've ever had. I took over the practice from Harvey Cowan in 1982. Harvey was a wonderful vet who taught me the importance of providing uncompromised quality health-care and quality customer service.
I grew up in Washington and went to Sidwell Friends School. I became interested in veterinary medicine because I loved to ride horses and showed throughout Virginia and the east coast as a junior. I have three sons and wonderful wife, Denise, and two dogs, Brodie (a golden retriever) and Willie (an English Cocker). My oldest son, Mat, completed his surgical residency and joined the Friendship team as Chief of Surgery in July of 2011. I am very proud and excited to be working along side of him.
I enjoy every minute of my time at Friendship. While I enjoy being Director and helping to manage a large animal hospital, I get most enjoyment out of doing surgery and working with the great staff at Friendship. I am very proud of the outstanding team of over one hundred professionals that provide exceptional service to you and your companions. I enjoy all the time that I spend with pet owners and their furry friends.
Kieran Mara, Chief Operating Officer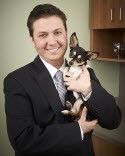 I joined the Friendship family in January of 2000, after several years outside of the veterinary world in corporate management. My original plan was to stay for just a few months while I decided my next career move. Months turned into years because I fell in love with the hospital. In my role, I oversee hospital operations, budget and strategic planning. I also work in conjunction with the managers on various projects and recruit all of the talented veterinarians we have on our team. I enjoy being able to make a difference every day in the lives of our patients, our clients and our team members.
In the Fall of 2001, I met my wife, Caitie, at Friendship, so it even further cemented how special this place is to me. We were married in 2007 in Toronto (the first of three weddings to each other!). We live in Gaithersburg, MD, and have three wonderful and energetic children– a son, Cormac, born in 2010, and twins, Brigid and Eamon, born in 2011. In my spare time, I love to play with the kids (building endless Lego sets) and watch bad reality TV with my wife.
We also have three wonderful dogs, Penny, a pug rescued from MidAtlantic Pug Rescue, Lola, a Chihuahua whose owner no longer wanted her and Stella, a Jack Russell Terrier who was abandoned at the hospital. We have two cats, both adopted domestic short hairs, Spirochete and Yoshimi, two guinea pigs, Duncan and Donut, and 20 fish.
Tanya Boris-Cass, Specialty Care Manager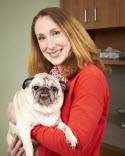 I was born and raised in small town on the Jersey Shore. I attended the University of South Carolina, and earned a bachelor's degree in Biology. In my time away from Friendship, I enjoy spending time with my husband Larry and daughter Madeline, competing in triathlons, and eating great food.   We are currently without pets, but are searching for that perfect little puppy.
Working at Friendship has been a great experience. I have been here since May of 2003.  I came to FHA a year after moving to the DC area in hopes of gaining experience for my vet school application. I started as an ICU technician. I then had the opportunity to work in internal medicine, oncology, surgery, dentistry, and in various management roles.  Unfortunately, vet school didn't work out, but my work as a veterinary technician has been very fulfilling.
Edwin Chavez, Client Care Manager
I joined Friendship in fall of 2011. It has been an exciting journey throughout my time here. I started as an overnight Client Care Technician. I was proud to be part of a team of individuals who are here late into the night to care for patients in need. I have a retail and banking leadership background. I am now fortunate to help my team while impacting the client and employee experience through our Friendship Values.
I'm a D.C. native and happy to be working in the community where I grew up. Snowboarding and scuba diving are two big passions of mine. I've had all kinds of pets in life, but currently I care for 3 dogs, a cat, and 2 chinchillas! I am lucky to have found a home where my heart and career can thrive.
Sara Crosman, Communications and Client Advocacy Manager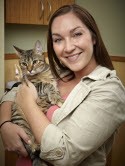 I grew up in the Philadelphia suburbs where I was always surrounded by pets.  Dogs, cats, birds, fish, hamsters, guinea pigs – you name it!  A career in the veterinary world almost seemed inevitable.
I graduated from Penn State (We are!) where I received my degree in Public Relations and Advertising, with a minor in Sociology.  After graduation, I spent a couple of years at an advertising agency in New York before relocating to the DC area in 2009.  After a year of odd jobs, I settled down at Friendship in the Client Care department.  Not long after, I joined the administrative team, working as the Executive Assistant to the Hospital Administrator.  From there I grew into the role of Communications and Client Advocacy Manager.  I've been extremely fortunate to have found my niche in the veterinary community and to have a job I enjoy coming to every day.
In my spare time I can be found trying to relax with my husband while also keeping up with the energy of our two boys.  We share our home with a high-maintenance orange tabby named Paul, a sweet lady kitty named George and a lazy bearded dragon we call Beardie.
Kathy Leef, Veterinary Relations Manager

I have signed on to Friendship in the newly created role of Veterinary Relations Manager.  I was the key representative from Henry Schein Animal Health and had Friendship as an account for the last 15 years.
I look forward to my work at FHA and creating good will between our referring veterinarians and our specialty services.
Marty Rogers, IT Manager
I started at Friendship the summer of 2013.  I've worked in IT for over 15 years in various corporate and non profit organizations and enjoy the variety of challenges that present themselves here at the hospital.
I moved from DC to Chevy Chase in 1994 and live there with my wife, two high school kids and two dogs we got from the shelter 5 years ago.  Recently my spare time is spent being a hockey dad, fishing with my son on the bay and hoping my daughter's zest for life continues to rub off on me.
Mickey Sigsbee, Facilities Manager
I grew up in Lake George, NY but moved to Maryland for high school and college, graduating from Rockville High and Garrett College where I studied Forestry.
I ran a printing press for a couple decades and then moved into building maintenance.
I live in Kensington, MD with my wife and our 20 year old son.  I enjoy cooking, ping pong, darts, reading, boating, fishing, and fixing things. At this point in time we have just one cat, Mo, who is hopelessly devoted to me.
Kyle Trainer, Inventory and Laboratory Manager
I started at Friendship on November 19, 2004.  I have worked here as an Animal Care Specialist, an Inventory Assistant and at my current position Inventory Manager.
Stacie Ward Accounting & Benefits Manager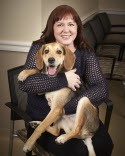 A DC native, I joined FHA in 2004 after spending several years working in accounting and restaurant management. I currently live in Ellicott City, MD with my son Robby and daughter Grace. I have a Beagle mix named Rocky, a Whoodle named Lucy and I love football season (Go Skins!!).