The Polite Puppy® at Friendship Hospital for Animals is designed to start your puppy off on the right paw!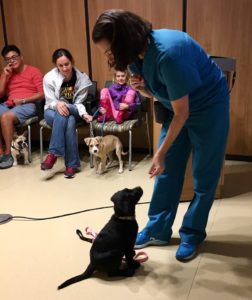 Friendship Primary Care veterinarian Ashley Gallagher leads The Polite Puppy®, a 5-week class, open to puppies age 8-24 weeks. Dr. Gallagher will help you sort through the important lifelong habits necessary to ensure that you are raising a well-behaved, happy, and healthy dog.
The Polite Puppy® is held every Tuesday evening at the hospital. Your puppy will develop a strong positive association with hospital visits, making future trips an enjoyable and stress-free experience.
To ensure the best experience for our puppies and puppy parents, class sizes are limited.
For more information on The Polite Puppy® or to register for an upcoming session, email politepuppy@friendshiphospital.com.