Primary Care at Friendship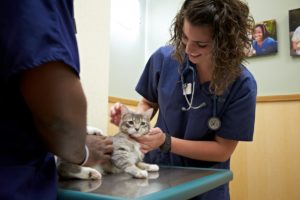 At Friendship, we know you want your companion to live a long and healthy life. Our primary care team is dedicated to providing you with high quality comprehensive care at every life stage. We believe that each pet is a family member and an individual with unique medical, dental, and nutritional needs. Our primary care doctors work closely together as a team and have nearly 200 years of combined experience. They will guide you in your medical decisions and serve as a liaison should your pet need to be referred for specialty care.
Continuity of care is vital to providing you and your pet with the best care. Please be sure to ask for your preferred veterinarian when scheduling an appointment. At your appointment you can expect a veterinary assistant to talk with you about your pet's general care and get a basic history if there are any problems. They can also give you advice on maintenance care such tooth brushing, ear cleaning or nail trimming, or on how best to medicate your animal. Be sure to relay all of you concerns so that working together, the doctor and assistant can provide you with answers to all of your questions.
Wellness Care
Preventative healthcare is truly important. All pets should be examined at least annually by your veterinarian. Pets age about seven times as fast as we do, so older pets should be examined even more often. Examinations are critical to help veterinarians find disease early—the best time for them to be treated. Early detection screening may include blood tests, urine tests, stool tests or other diagnostics, and may be recommended for your pet. Vaccination, parasite prevention and nutrition assessment are key components of a wellness check-up. At Friendship, we do not believe in over-vaccinating dogs and cats. While vaccines have proven life-saving benefits, vaccination programs must be tailored to the patient and the risk of exposure.
Health Care Plans
Friendship Primary Care offers a range of wellness plans designed to offset the cost of annual care, all for one basic discounted fee. Packages include examinations, vaccinations, lab work, intestinal parasite screening, discounted specialty consults, special nutrition consultations and more.
Puppy and Kitten Wellness Plan
Puppy and Kitten Care
Who doesn't love to see healthy, happy, puppies and kittens romping and rolling as they explore this whole new world before them? Our primary care doctors understand the importance of early preventative care and establishing the foundation for a life-long relationship. Primary care appointments are available 7 days a week, and our facility is open 24-hours a day for urgent or emergent care. Should you pet need additional specialty care, take comfort knowing your primary care veterinarian and our specialty veterinarians are all part of the same team, operating under one roof.
Sick Pet Care
Your primary care veterinarian is the first contact for a pet with an undiagnosed health concern and will also work with you to provide your pet with continuing care of varied medical conditions. Continuous care is important for patients with medical conditions that require long term treatment and monitoring.
Senior Care
When your pet has been with you for many years—not only do they become irreplaceable members of the family, they also need a little extra care. As your pet grows older we recommend that wellness visits become more frequent and that we see your pet at least twice a year (every 6 months). These exams, along with early detection screening, are the key to detecting health problems that could endanger your pet. Our pets are susceptible to same ailments that aging humans face, such as cancer, diabetes, kidney complications, liver and intestinal disorders, arthritis, dental disease and vision impairment. Keep a watchful eye for anything unusual or out of character for your dog or cat. Some warning signs to watch out for include:
Unexplained weight loss

Excessive drinking or urination

Loss of appetite

Lethargy

Behavioral changes

Diarrhea or vomiting

Skin lumps, growths or irritation

Bad breath, plaque on teeth or bleeding gums

Ear odors, ear redness, or scratching at the ears

Lameness or changes in mobility
What will my veterinarian look for during a physical examination?
Before even touching your pet, your veterinarian has already started their examination. While chatting with you and introducing ourselves to your furry family member, we're assessing your pet's visual and auditory responses to the environment, symmetry of the head and body, body posture and mobility.

Mouth: Your veterinarian will check for tartar, tooth damage, inflammation, foreign material, masses and infections that can make your pet sick. Bad breath can be more than just unpleasant, it can be a sign of both oral and systemic disease.

Eyes: The eyes are the window to the soul, and also to the body. Your veterinarian looks for inflammation, discharge and clearness of the cornea and lens.

Ears: Inflammation, infection and other ear problems can be an unrecognized area of discomfort for your pet.

Abdomen: Your veterinarian is trained to feel for tumors, signs of pain and enlarged organs. A belly rub may be an added bonus.

Body: It's like a massage, but it isn't. We're checking muscle tone, body condition, and for enlarged lymph nodes that can be a sign of infection or disease.

Skin and Coat: Your veterinarian will look for fleas, ticks, mites, skin infections and lumps and bumps. If you pet's coat is thick, we'll want your help. Feel free to point out anything that has you concerned.

Under the tail: It's not pretty, but your veterinarian checks under the tail for anal gland issues, tapeworms and tumors.

Heart and Lungs: When your veterinarian gets out the stethoscope, they're listening for heart murmurs, irregular beats, and also making sure the lungs are clear.

Joints and spine: Problems with the joints and spine can cause discomfort. Your veterinarian will check the joints and spine for signs of pain and tenderness.
Heartworm and Parasite Prevention
All dogs in this area should be on an effective heartworm preventive year round. Administration is easier than ever with once-a-month chewable tablets. Cats, too, should be treated for parasites on a regular basis. Heartworm medication recommended at Friendship is also effective in preventing numerous other parasites.
Choosing a diet for your pet
Good nutrition is an essential part of optimal pet care. But, choosing a diet for your pet may feel daunting, with so many choices and so many different opinions on pet foods. The information below can help guide you in your selection:
Check the AAFCO nutritional adequacy statement on the label. Is it complete and balanced? If so, for what life stages?

Complete and balanced products will have a nutritional adequacy or "AAFCO statement." The food is either formulated to meet AAFCO nutrient profiles or will have undergone feeding tests to prove nutritional adequacy.

Pet foods that have undergone feeding trials utilizing AAFCO protocols are preferred as they are evaluated for nutrient bioavailability and palatability.

Contact the pet food company and ask:

Is there a veterinary nutritionist or another expert in pet nutrition on staff? Is she or he available for questions?

Who formulates the diets and what are their credentials?

What specific quality control measures are used to guarantee consistency and quality of the food?

Where are the diets produced and manufactured?

Can a complete product nutrient analysis of the best-selling dog and cat food be provided?

What is the caloric value per can or cup of the diets?

What kind of research has been conducted? Are the results published in any peer-reviewed journals?

Does the company have a tracking system for recalls?
For more information on our Primary Care Services, please don't hesitate to contact us.